Tampa Bay rivals any city in Florida when it comes to leisure activities. Tampa has an incredible variety of things to do, and its attractions are often less crowded than other Florida vacation spots such as Orlando and Miami. Locals and tourists alike can enjoy theme parks, waterparks, aquariums, zoos, museums, world-class dining and beautiful nature hikes without traveling more than an hour from downtown. Here is a comprehensive guide to the many fun things to do in Tampa Bay.
What Fun Activities Can You Find in the Tampa Bay Area?
Tampa Bay is packed full of interesting things to do. From art tours to rollercoasters, you can easily find activities in Tampa to suit anyone's taste.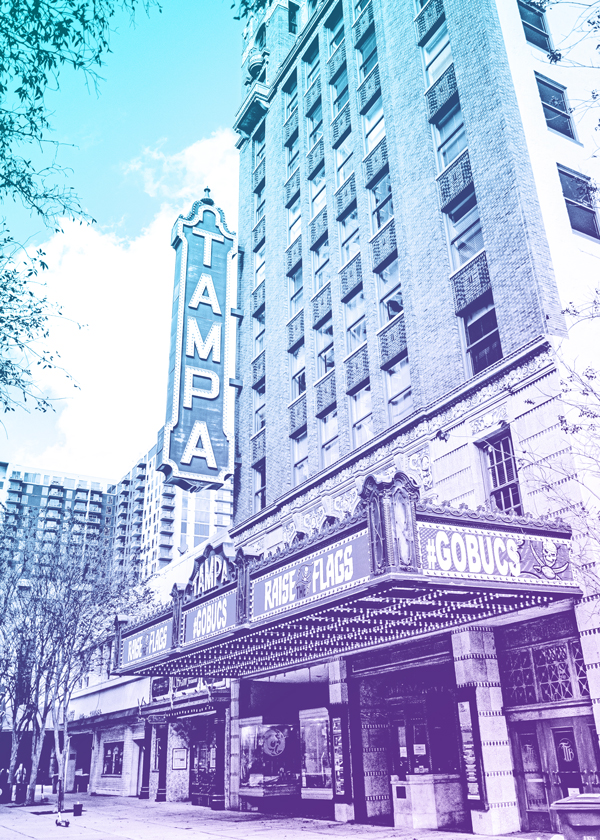 Thrills and Chills
The thrill of a rollercoaster draws thousands of people to the Tampa Bay area every year. Even more come for the incredible marine wildlife and water rides. Tampa has multiple world-class amusement parks, and each makes a perfect day trip.
Busch Gardens Tampa Bay
At over 300 acres, it may take you multiple visits to experience all of the attractions at Busch Gardens Tampa Bay. This legendary destination is part amusement park, part zoo and part aquarium.
Busch Gardens features 28 rides, ten of which are unique roller coasters. The Tigris and Cheetah Hunt rollercoasters send riders through a gauntlet of twists, loops and drops, while the Iron Gwazi can reach a maximum speed of over 75 mph.
The animal attractions at Busch Gardens are equally invigorating. Wide-open zoo and safari spaces are home to over 200 different species of animals you can spot on a train tour. Interactive experiences allow you to see sloths and flamingos up close.
Busch Gardens' concert hall can make for a spectacular night out. Popular artists such as Dustin Lynch and Flo Rida are on the roster, as well as musical performances by the Trans-Siberian Orchestra.
Adventure Island
A day at a classic waterpark can bring out the kid in anyone. Adventure Island is 30 acres of exhilarating tube slides, obstacle courses and rapids to cool you off in the Florida summer. Adventure Island is a seasonal park open from March to October.
Epperson Lagoon
For a combination of a waterpark and beach experience, check out Epperson Lagoon. While the pool section closes at the end of the season, other attractions at the Lagoon are open year-round. Epperson Lagoon is a man-made lagoon waterpark located less than an hour from downtown Tampa. Its cabanas, restaurants and fun water activities make for a complete one-stop day trip.
Floating obstacle courses and climbing walls provide a challenge, and a waterslide with a 30-foot drop will satisfy any thrill seeker. It also features relaxing lazy rivers, kayaking and paddleboarding. Events such as movie and trivia nights keep the fun going after sundown.
Artistic Adventures
Tampa has a thriving arts and culture scene alongside its thrilling amusement parks. Many of Tampa's artistic attractions are located in the downtown Riverwalk area. Riverwalk passes grant access to many museums and activities with one affordable ticket.
Tampa Museum of Art
The Tampa Museum of Art has an impressive collection of antiquities from Ancient Greece. It also features rotating modern art exhibits. Classes and art meetup groups can provide community and support for local artists and art lovers.
Tampa Bay History Center
Few are aware of Tampa's rich history. The Tampa Bay History Center is a great place to cool off in air conditioning while enjoying stories of pirates and buccaneers from Tampa's past. The Tampa Bay History Center also explores the Cuban immigrant experience and gives a glimpse into the life of pioneer-era Floridians braving the Everglades. Three floors of immersive exhibits bring Tampa's history to life.
H.B. Plant Museum
History buffs will love the H.B. Plant Museum as well. It's a restored section of the 1891 Tampa Bay Hotel in the original Victorian style.
Tampa Bay was a tourism capital around the turn of the century, as railroads suddenly made it easy for the wealthy to access tropical destinations. With real period furnishings and decorations, you'll feel as if you're in the middle of a costume drama at this unique museum.
Straz Center for the Performing Arts
The Straz Center is a concert hall in downtown Tampa with over 4,000 seats. It's built in the same lush, tiered style as the Metropolitan Opera House in New York City. National tours of Broadway shows such as "Hamilton" and "Wicked" perform at the Straz Center every year, so locals can have a full Broadway experience without leaving home.
Tampa Theatre
For a more casual night out, visit the historic Tampa Theater. The Tampa Theater was built in 1926 and is a historical cinema palace from a bygone time. It's also a nonprofit cultural organization.
In addition to classic movies, the Tampa Theater offers fun and offbeat live shows. One such show is a Korean spin on "Phantom of the Opera," performed in Korean and featuring K-pop idols in the leading roles.
You can even enjoy a movie night from Tampa Theater without spending a dime. Their Traveling Picture Show puts on free screenings of classic movies in parks around Tampa. Bring a blanket and snacks for a frugal and fun night out.
Relaxing Getaways
There are plenty of exciting things to do in Tampa, but sometimes the perfect day is all about relaxation. Here are a few low-intensity activities that will help you unwind.
Rock Spa & Salon
The Rock Spa & Salon is located inside the Seminole Hard Rock Tampa Hotel and Casino, but it's open to non-guests. What makes this spa unique? The "rock" in the spa's name doesn't refer to a simple hot stone massage.
This spa offers music-synchronized treatments alongside spa classics such as massages and oxygen facials. Thai massages and energy healing are also on the menu. This spa's 42,000 square feet of atriums and soaking pools can provide hours of relaxation.
Goat Yoga at the Grady Goat Foundation
The Grady Goat Foundation is a nonprofit farm in Tampa that cares for neglected and abandoned goats. Every weekend, they offer a goat yoga class to the public — a basic and beginner-friendly yoga class crashed by dozens of baby goats.
If a typical yoga class seems intimidating, the perfect solution is to add goats. Goats are curious by nature, so they'll check up on your poses and maybe even copy you. You don't have to worry about hitting all of the right postures, as goat yoga is all about having fun.
Rooster & the Till
Sharing exceptional food is a relaxing experience that can also bring people together. Many people aren't aware that Tampa has three different Michelin-starred restaurants.
One of these three, Rooster & the Till, brings together a variety of food traditions for a uniquely American menu. Local seafood, A5 Wagyu beef and Spanish Iberico ham all feature, but there are also vegan and gluten-free options. The seasonal five-course tasting menu rotates frequently.
Natural Wonders
In Tampa, you don't have to travel far from the metropolitan downtown to surround yourself with nature. Many sprawling parks and eco-tourism activities are only a few minutes away.
Taking time away from city lights and screens can improve your mental health. The American Psychological Association recommends spending time in nature to improve attention span, strengthen working memory and reduce stress.
Hillsborough River State Park
Hillsborough River State Park is a must-see destination for any nature lovers in the Tampa area. Spot a variety of Florida wildlife in its natural habitat while hiking over seven miles of scenic trails.
The park also has three loops of campsites available for rental at affordable prices. You can experience a true natural getaway and drive back to downtown Tampa in no time.
Alafia River State Park
Alafia River State Park is mostly known for one thing: off-road biking trails. The park used to be a lakeside getaway at the turn of the century, but a phosphate mining operation dug out sections of the terrain. Crafty bikers repurposed the park into twenty different challenging rides. Visit this park for a major adrenaline rush alongside your nature viewing.
Empower Adventures
You can have an exhilarating nature adventure in Tampa without learning how to off-road bike. Specialized eco-tourism combines the adrenaline rush of an amusement park with the soothing effects of a day in Florida's natural wilds.
Visit Empower Adventures Tampa Bay for over two hours of ziplining over rich tropical waters and forests. You can also compete in athletic challenges among the treetops or traverse a scenic suspension bridge. After you're done adventuring, you can relax on a nearby beach and watch for local manatees.
Manatee Viewing Center
Manatees are adorable herbivores that inhabit tropical waters around the world. Tampa Electric's oceanside power plant draws manatees in huge numbers due to its warm water year-round.
The manatees are so plentiful that Tampa Electric built a specialized Manatee Viewing Center. This attraction is also a federally designated manatee sanctuary. Manatees are vulnerable to injuries from boat propellers, so designated safe zones like the Manatee Viewing Center are both fun attractions and important conservation efforts.
How Can Leisure Activities Help Fight Addiction?
Tampa's many activities are fun for both locals and tourists, but these energizing and relaxing attractions can serve a therapeutic purpose as well. Drug and alcohol addiction can sap all joy and pleasure from everyday life. Rediscovering healthy, fun activities in the local area is a crucial step that can support long-term addiction recovery.
Restoring Joy
All drugs use the brain's natural reward pathways to deliver a high. Over time, this leads to the breakdown of those pathways. It can be difficult to find pleasure in anything when recovering from drug addiction, even fun activities that a person used to enjoy.
New experiences can rebuild the brain's reward pathways and provide natural highs. While these sensations won't be as intense as the highs from an addictive drug, over time, new experiences provide pleasure and fun while maintaining a clean lifestyle.
Satisfying a Need for New or Intense Experiences
A personality trait psychologists call "sensation seeking" or "novelty seeking" makes certain people crave intense or unusual sensory experiences. People with this personality trait tend to have higher overall dopamine levels in the brain.
Sensation seeking or novelty seeking can cause higher rates of drug use and addiction, according to a study in Behavioral Brain Research. New or thrilling experiences — for example, riding rollercoasters, exploring nature or eating exotic foods — can fulfill a sensation seeker's need for novelty in a healthy and sober way.
Rebuilding Social Bonds
Addiction often breaks down family and friend relationships. If a loved one is recovering from addiction, a day trip or outing can make major progress toward rebuilding these key relationships. Many leisure activities around Tampa are even more fun with friends or family to share them with.
Where Can You Find Support in Tampa for People Suffering From Addiction?
It can be dangerous to tackle drug and alcohol addiction alone. Withdrawal symptoms can make quitting drugs extremely difficult and even physically hazardous to a person's health. Professional treatment is a proven way to get clean and stay clean from addictive substances.
At Clean Recovery Centers, we help people struggling with addiction through a proven three-phase approach. An initial inpatient phase eases the worst symptoms of withdrawal. After the physical risks have passed, the second phase combines inpatient and outpatient treatment. This treatment helps prevent relapse in the difficult early stages of recovery. Finally, therapy goes beyond the surface to address the root causes of addiction. In many people, this critical work within the self reduces or eliminates the need to self-medicate with addictive drugs.
Addiction often marks the darkest time of a person's life. It can be difficult for someone with an addiction to conceive of a normal day full of enriching activities and social bonds. If you or a loved one are struggling with addiction, know that it's possible to get and stay clean. Over time, enjoyable activities can once again bring a pleasurable rush of excitement or relaxation without drugs. Contact us for more information about addiction treatment in Tampa.
Sources:
https://www.visittampabay.com/things-to-do/
https://www.friendsofalafia.org/park
https://www.visittampabay.com/listings/grady-goat-foundation/13149/
https://buschgardens.com/tampa/zoo/animals/
https://buschgardens.com/tampa/rides/
https://www.apa.org/monitor/2020/04/nurtured-nature
https://www.metrolagoons.com/lagoon/epperson/
https://www.seminolehardrockhollywood.com/amenities/rock-spa-and-salon
https://tampatheatre.org/
https://www.strazcenter.org/
https://www.plantmuseum.com/
https://www.roosterandthetill.com/
https://www.sciencedirect.com/science/article/abs/pii/0166432895002030