Get Clean! Call us today!
Tampa Addiction Treatment Services for Drugs and Alcohol
Call today to Get, Live, Stay, Clean.
Clean Recovery Centers - Tampa
4.9

Stars - Based on

236

User Reviews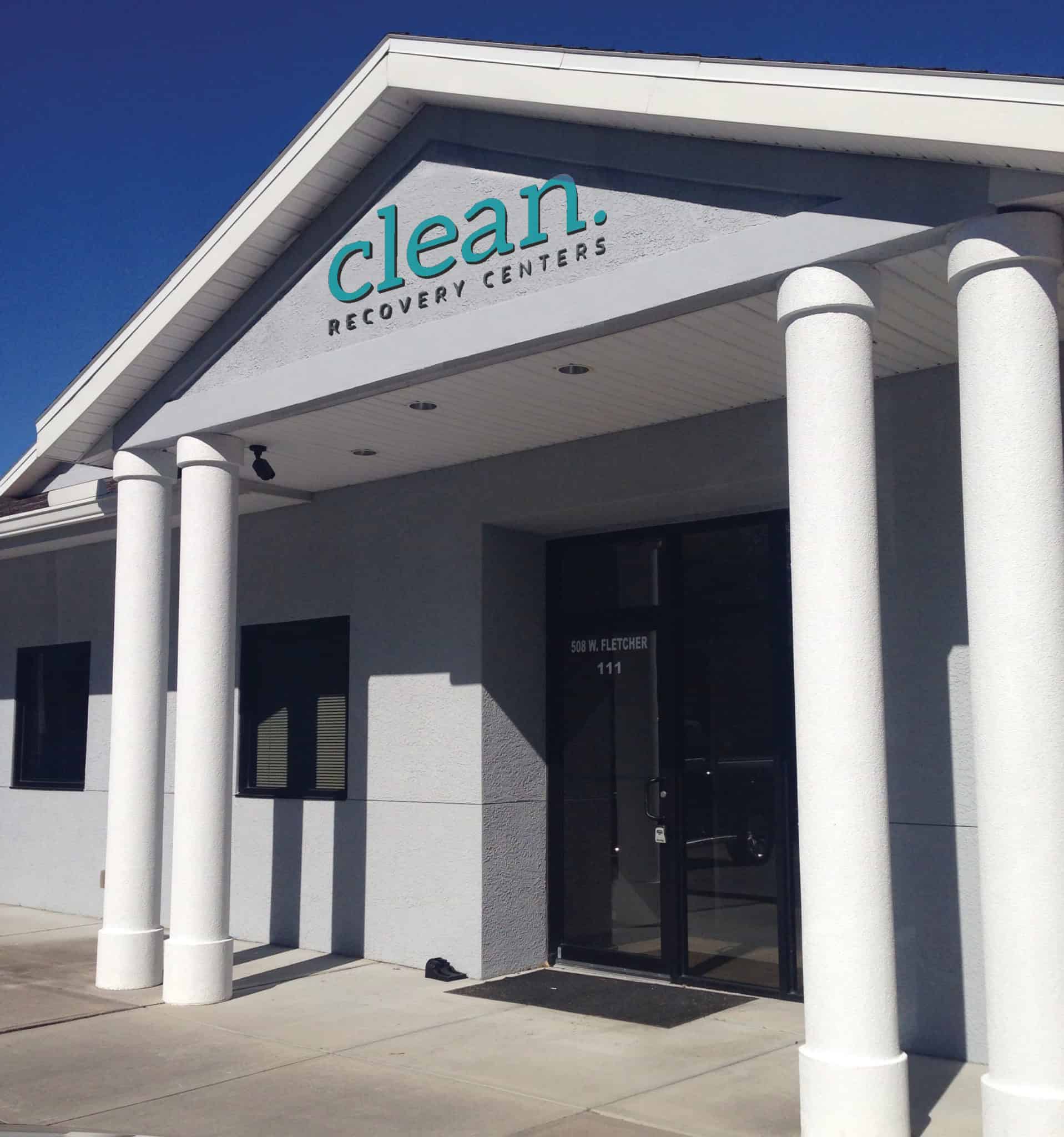 WHAT IS A DRUG REHAB CENTER?
A drug rehabilitation center is a facility where people struggling with drug addiction can receive treatment to become sober and live happier and healthier lives. If the word "facility" brings to mind images of a hospital, you couldn't be further from the truth. While this is sometimes the case, and some treatment modalities do require a hospital stay, our Tampa drug rehab center is designed to be comfortable and aesthetically pleasing to patients and their families.
WHAT TAMPA ADDICTION TREATMENT PROGRAMS ARE AVAILABLE?
Different treatment centers create their own addiction treatment plans to help patients transition into sober living. These are usually tailored to meet the specific needs of the environment they serve or the specific type of addiction they may treat. At Clean Recovery Centers, we treat various forms of substance abuse, including addiction to opioids and alcohol. Here are some of the programs you can expect to find here.
DNT With Community Housing: Day/Night treatment programs are considered an outpatient service at our rehab centers, as you are allowed to live off-site during the course of your drug or alcoholism treatment. At our center, it is a prerequisite for our three-phase approach program.
Three-Phase Approach: In this program, we use the latest clinical therapy techniques available to prepare you for sober living. This includes the well-known 12-step program.
Detox: Addiction is as much biological as mental. While we can't change the genetics that predisposes some people toward addiction, we can help the body recover from the effects of substance abuse through our trusted drug and alcohol detox program to get you on the path to long-term recovery.
Wellness: This program is specifically designed to reduce any possibility of relapse after recovery by focusing on overall wellness through the use of physical therapy, massage therapy, acupuncture, and yoga.
Living Clean: According to one Forbes article, the best treatment centers can provide is a supportive sober community. We strongly believe this at Clean Recovery Centers and provide transitional living residences and community housing, certified by the Florida Association of Recovery Residences.
Intensive Outpatient Program: This non-residential treatment is just as effective as a residential stay. Focusing on group and individual therapy as well as case management, this program gets you ready to transition to life outside of treatment. We equip you with valuable life skills and we commit to your personal growth and wellness. You may choose to reside in our transitional living residence during this phase of treatment
Outpatient Treatment: This treatment is for those living in sober living or at home. You come to the facility for therapy and case management then go about your daily routine. In this phase of treatment, we help you focus on wellness, growth, and providing service in the community. You will also be working part-time and possibly full-time as treatment finishes. Housing assistance is available from our trusted staff of case managers.
WHAT MENTAL HEALTH TREATMENT PROGRAMS ARE AVAILABLE IN FLORIDA?
Clean Recovery Centers is the only treatment facility in Tampa that can treat both addiction and mental health diagnoses as primary conditions or co-occurring disorders. Our Tampa location offers individual, group, family, and trauma therapy to not only treat our client's mental health disorders but also provide education and medication management.
At our Tampa mental health facility, we deliver behavioral therapy at a residential II level of care, also known as partial hospitalization (PHP). This means clients stay overnight at the facility and participate in full-day treatment programming until they are stabilized. Usually, a patient will transition to a lower level of care within the Clean Recovery system as their treatment needs change throughout the recovery process.
WHY YOU SHOULD TRY OUR TAMPA DRUG & ALCOHOL REHAB
At Clean Recovery Centers, we are committed to helping you transition from your old life of addiction into a new life of sober living. Our treatment plans help you identify and build on your strengths to create a lasting and healthy change. Through this approach, we have helped many addicts to improve the quality of their lives and reduce their dependency, in just 3 to 6 months.
TAMPA SUBSTANCE USE DISORDER TREATMENT
Some of the benefits you can expect to see at Clean Recovery Centers, the best drug rehab Tampa has to offer.
Keep in mind that people cope with substance abuse differently, so not all of the following will be relevant to your personal situation.
Eliminate the likelihood of an early death due to a drug overdose.
Reduce the likelihood of developing or worsening health conditions related to drug use, such as, dental problems, stroke and certain cancers.
Reconnect with family and friends you may have lost touch with along the way.
Return to a level of productivity that enables you to hold down a stable job and pursue your dreams.
Proudly serving people from any of these Tampa zip codes: 33606, 33602, 33605, 33603, 33604, 33612
Clean Recovery Centers in Tampa, Florida is an addiction treatment and mental health facility offering drug and alcohol rehab programs – Day/Night Treatment with Community Housing, Intensive Outpatient, and Outpatient Services, and mental health programs – Residential II, Partial Hospitalization, Intensive Outpatient and Outpatient Services. It also serves as the company's Headquarters.
Tampa
Tampa is a major city on the Gulf Coast of Florida. The city's borders include the north shore of Tampa Bay and the east shore of Old Tampa Bay. Tampa is the largest city in the Tampa Bay area and the seat of Hillsborough County. With a population over 380,000, Tampa is the third-most populated city in Florida after Jacksonville and Miami. The Greater Tampa Bay area has over 4 million residents and generally includes the Tampa and Sarasota metro areas.
Airport
Tampa Bay International Airport (TPA)
4100 George J Bean Pkwy
Tampa, FL 33607
(Located six miles west of downtown Tampa.)
Airlines that service TPA include: Alaska Airlines, Air Canada, American Airlines, Avelo Airlines, Breeze Airways, British Airways, Cayman Airways, Copa Airlines, Delta Air Lines, Edelweiss Air, Eurowings Discover, Frontier Havana Air, jetBlue, Silver Airways, Southern Airways Express, Southwest Airlines, Spirit Airlines, Sun Country Airlines, United Airlines, WestJet              .
Address
RECOVERY CENTER
508 W Fletcher Ave
Tampa, FL 33612
CORPORATE OFFICE
506 W Fletcher Ave
Tampa, FL 33612
Hours
Sunday 24 hours
Monday 24 hours
Tuesday 24 hours
Wednesday 24 hours
Thursday 24 hours
Friday 24 hours
Saturday 24 hours
Sunday 24 hours
Follow Us
Don't forget to check Google and Yelp for Reviews.
Email us your questions.
Fill out this form and someone will be in touch.
ABOUT US
Clean Recovery Centers accepts most insurance policies as well as private pay clients for detox recovery and addiction rehab. In 2015, Clean Recovery Centers opened in Tampa, Florida offering addiction programs, and has seen tremendous growth and success in helping hundreds of individuals with drug rehab and addiction rehab to get, live, and stay clean. We have since expanded to other markets, including New Port Richey and Sarasota. Start your journey to recovery today at this addiction center!