How the Power of Addiction Goes Beyond the World Pandemic
We have now taken extraordinary measures, including the ability to test COVID-19 among our clients, to combat this global pandemic. This is extremely important as many people suffering from addiction and other mental health challenges are struggling much more right now because 12 step meetings and other support group mechanisms have largely been shut down. Perhaps now more than ever these people need a safe place to go for treatment. To this end, the country needs well-run facilities to help reduce the risk of individuals becoming infected with and spreading COVID-19.
Addiction is a chronic brain disease, not a personal shortcoming or a matter of will power. The feeling of being addicted is so powerful that simply quitting is virtually impossible. Imagine having a very itchy mosquito bite that you cannot scratch. We all have experienced this mild compulsion to scratch. Now imagine that compulsion multiplied by one million. That's the power of addiction!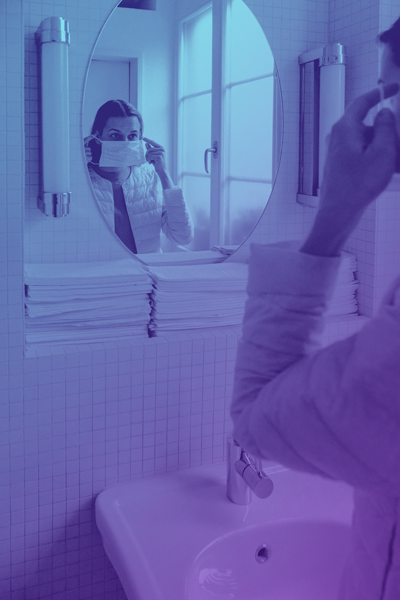 Emotional anguish
A mosquito bite can be scratched away, but the emotional anguish from active addiction is unbearable. The chemicals necessary for a person to feel "ok" are depleted. They feel an impending sense of doom unless they get and consume more of the substance or substances. Feelings of fear, loneliness and despair are at incredible levels. All sense of hope vanishes. Without more of the drug or drugs, the physical pain of withdrawal is so intense most want to simply die, and it would all be over.
Events like a World Pandemic do not make the suffering addict wake up and stop using. On the contrary, addiction is so powerful that these types of catastrophes can make the feeling of impending doom worse and the fear escalates to unimaginable levels. The addict begins using even more to drown away these feelings. Their brain become ever more dysfunctional, incapable of any sound judgment.
Feeding the addiction
Suffering addicts will do almost anything to keep feeding their addiction. This includes exposing themselves to very unhealthy environments, which are now even more dangerous when combined with the COVID-19 global pandemic. Suffering addicts are putting themselves and others at even greater risk than ever before. Worst case, they have the potential to become rampant carriers of the virus, spreading it from one unhealthy environment to the next, and potentially to their loved ones should they come into contact with them.
The best advice for the many suffering addicts is to get themselves into a reputable and well-run treatment center as soon as possible before they get become infected with the virus. If the person passes the necessary screenings and/or tests, they will likely be accepted into the program.
To ensure those suffering with active addiction have a safe place to come we have taken the following steps:
– All prescreening includes questions regarding travel to China, Asia, and Europe, flu-like symptoms and if the individual has come in contact with anyone who has COVID-19. These individuals will be monitored for signs and symptoms compatible with COVID-19 and be tested per the judgment of our providers (see specifications below). The procedures outlined in this policy will remain in effect until the CDC declares that COVID-19 is no longer a threat to the American public.
Added considerations
– The following questions have been added to the pre-screening assessment: Have you traveled to Asia or Europe since the winter of 2019? If yes, what countries or parts of countries have you visited? Have you or any family members been exposed to Coronavirus?
– Are you at risk for exposure to Coronavirus? Are you experiencing shortness of breath, coughing, fever or other symptoms of Coronavirus or flu? If yes, have you been tested for the Coronavirus or are you willing to be tested?
– Per CDC guidelines, our providers will use their judgment to determine if a client has signs and symptoms compatible with COVID-19 and whether the patient should be tested at Clean Recovery Centers' facilities.
– Our providers will notify the local or state health departments immediately should they deem any client investigation probable for COVID-19. Individuals who test positive will be referred elsewhere per the guidance of our providers, as well as local and state criteria and CDC guidelines.
– Visitation to our facility has been cancelled until further notice unless it is deemed absolutely necessary. If visitation is necessary, visitors will be asked about recent exposure to COVID-19 and any health risks they may have.
– Pertinent CDC COVID-19 posters have been placed at key locations throughout Clean Recovery Centers facilities.
– Staff have received information and training on COVID-19 as well as preventative and containment measures that are being executed.
– Employees who have symptoms of acute respiratory illness are asked to stay home and voluntarily self-isolate for 14 days and are free of fever (100.4 degrees F or 37.8 degrees C – using an oral thermometer) and any other symptoms for at least 24 hours, without using fever-reducing or other symptom-altering medicines (e.g. cough suppressants). Employees should notify their supervisor and stay home if they are sick.
– Employees who are well but have a sick family member at home with COVID-19 will notify their supervisor immediately to determine the next steps.
– Employees must refrain from all forms of human interaction (social distancing) such as hand shaking and hugging as part of the overall effort to reduce co-contamination.
– All facilities and transportation are being disinfected a minimum of 3 times a day.
– Staff members and clients have their temperature taken daily and this is monitored.
We believe these measures and our ability to now test for COVID-19 will further help us mitigate risk across our facilities, allowing us to help as many people as we can who are suffering from addiction in these unprecedented times. The disease of addiction is very powerful and destructive on its own. Now is not the time to neglect the suffering addict if at all possible. This will only exacerbate the addiction problem, already a global epidemic in its own right, and quite possibly make the COVID-19 pandemic worse.